(Oringinally posted on the inkdick blog, but I'm double posting it here for good measure)

Ok, so obviously you have noticed that I didn't get today's (well, yesterday's) strip up. The final prep for SPX took longer than expected. Much longer. And since I will be gone for the weekend and part of the week, no new inkdicks until Wednesday. After that, we'll be back on our regular schedule.
Also, I'm behind on getting the iDonate original artwork done, so if you said you'd be at SPX and would pick up your art there in person, sorry, it's not ready yet. Don't worry, I'll mail you your art when it's done (with something extra thrown in maybe as a way of saying sorry for the delay). It'll be mailed to you before Thanksgiving, I swear.
Now on to more SPX news. Here is what you can expect to see (and buy) from me this year at SPX: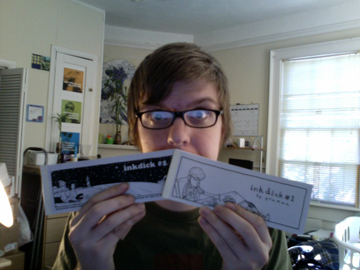 Inkdick #1 and #2 ($2 each). Not only can you read the first two and a half months of inkdick off-line, but you can sport a pretty bitchin' mustache with them.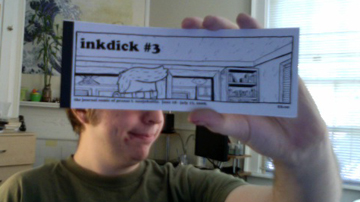 Inkdick #3 ($2). Look how clever I am, combing the top half of my cartoon-self face with the bottom half of my real-life face. Actually, this is not clever at all. But the comic itself is good.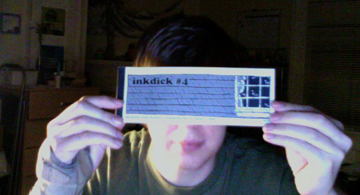 Inkdick #4 ($2) Hot of the presses. Literally. I just got done making them 30 minutes ago.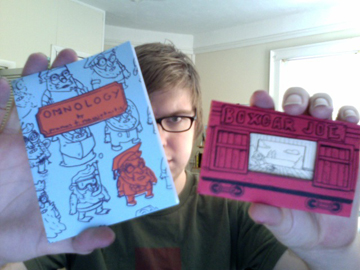 Omnology ($1) and Boxcar Joe ($4) Omnology is a dirty, dirty comic. Boxcar Joe comes in a neat little slipcase that takes forever to make, but the end result is worth it.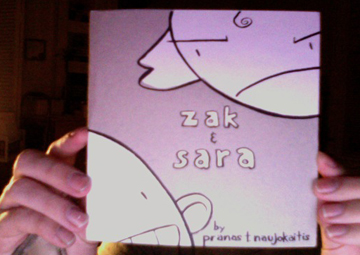 Zak & Sara ($3) Don't tell Ben Folds, he'll sue me. The comic is help shut by a flap in the back with VELCRO. I repeat: VELCRO. How cool is that?

8 Pages of Monsters Doing Everyday Things (either $0.50 or $0.75, still haven't decided) A one-sided page no-staple color comic. Amy colored it and did an kick-ass job. This is an SPX 2008 exclusive, so once it's sold out, it's sold out forEVER.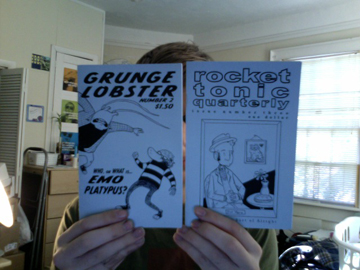 Grunge Lobster #2 ($1) and Rocket Tonic Quarterly #3 ($0.75) AKA all the old shit. These two titles are soon to be retired and go out of print, so pick up the last copies while you still can if you'd like to remember Retro Pranas.
I am sharing a table with Falynn Koch and Kevin Singles at table B-16. Here is a map: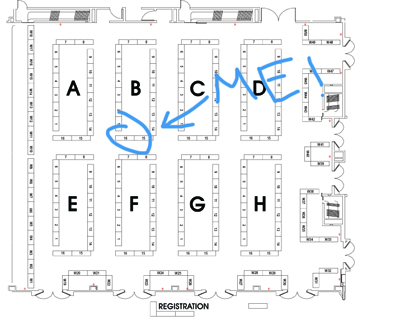 A very sweet location, no? We'll be between Drew & Eleanor and Brian Fukushima. Not a bad place to be. Not a bad place to be at all.
So if you are in the Bethesda, Maryland area come out this weekend to SPX, and if you will be there already, stop by the table and say hello. I'm not THAT socially awkward, I swear.